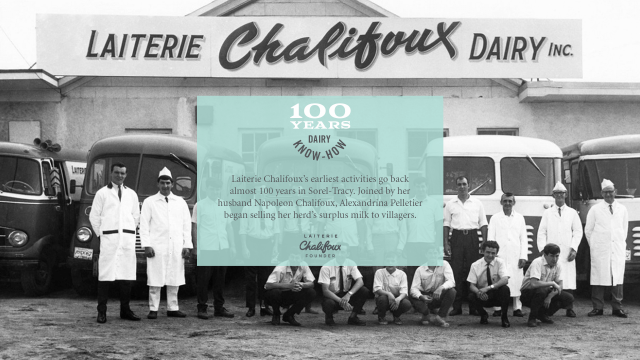 Riviera has made European refinement the hallmark of its century old company.
Maison Riviera's earliest activities go back 100 years in Sorel-Tracy. Joined by her husband Napoleon Chalifoux, Alexandrina Pelletier sells her herd's surplus milk to villagers.
The small family business grows, and their son Jean-Paul Chalifoux is one of the first to obtain a pasteurization licence and the right to source milk from farms in his region.
Products are sold from a horse-drawn cart.
The dairy company creates its famous Riviera Cheddar cheese, the first milestone in an ongoing success story in the art of milk processing.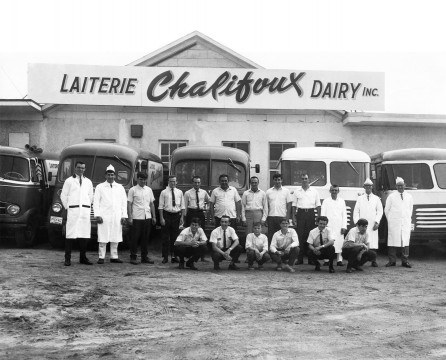 The company processes some four million litres of milk per year, mainly from the watershed of Lac Saint-Pierre, a region that produces a generous feed crop.
The company imports European ultrafiltration technology, enabling—among other things—the production of lactose-free cheeses.
From the artisanal production of its early years, Maison Riviera and the Chalifoux family have maintained an attention to detail, an expert hand, and a connection to the land, while modernizing their facilities.
The Petit Pot Collection stands out as soon as it is released by receiving several awards and distinctions, but also, and above all, capturing the hearts of consumers.
With a desire to reaffirm its position as a trendsetter in the dairy sector, Riviera launches its new range of reduced sugar products.
Maison Riviera is innovating and diversifying its product offer with Vegan Delight, an entirely vegan range made with coconut milk. Seeking to encourage sustainable and healthy agriculture, the company is joining forces with eco-friendly suppliers and growers.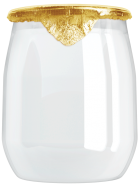 European Refinement
Our Products