A new 100% recyclable petit pot is joining our collection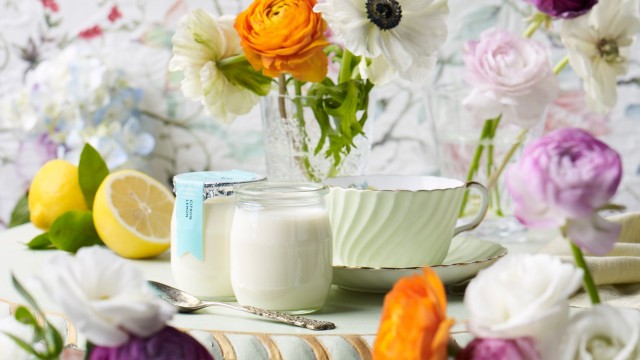 At Maison Riviera, it has always been important to offer delicious, sustainable products while focusing on innovation. We are proud to be the first major company in Canada to offer our line of yogurts and vegan alternatives in petits pots made from PET #1 plastic, which is internationally recognized as 100% recyclable.
You will find the same high-quality, well-loved products in our new, fully recyclable containers with the same emblematic shape that sets Maison Riviera apart. These innovative containers will help us to reduce our carbon footprint, linked primarily to the transportation and recycling of our products.
Maison Riviera is committed to incorporating best practices to ensure that our clients can enjoy products that meet their high standards in terms of quality and package design.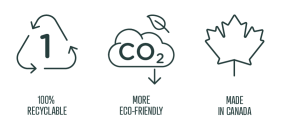 Accepted in all Canadian recycling facilities and known for its infinite recyclability, polyethylene terephthalate (PET) is a plastic resin that is full of potential. Maison Riviera decided to move forward with PET for its new containers because of its versatility and 100% recyclability. For us, its #1 designation is spot-on, since it is the most recycled plastic on the market!
Once recycled, it can be transformed back into PET sheets destined to produce containers, but it may also find a second life as carpeting, fleece or padding for clothing, cushions, mattresses and other products.
Why did you decide to switch your glass yogurt pots over to PET #1 plastic pots? How are they different?
Our desire to innovate in reducing our carbon footprint led to our decision to move forward with a new container made of 100% recyclable PET plastic. With this container, we will reduce the GHG emissions from transporting our products because our container will be much lighter than our current glass petit pot. We will also be able to produce our containers in Canada instead of overseas, as is currently the case due to the lack of Canadian glass petit pot suppliers.
In addition, PET #1 plastic is accepted at all Canadian recycling facilities, which makes it much easier to reuse. It is also the most recycled plastic on the market because it can be recycled in its entirety.
In the spirit of reducing our energy consumption linked to the production and transportation of our products and creating more life cycle options for the container, we chose PET #1 plastic for our collection because it is the best choice for single servings.
We are proud to be the first major company in Canada to offer our single servings in 100% recyclable plastic containers, whereas other single servings are offered in #6 plastic containers, which are difficult to recycle in Canada.
How can I recycle my new PET #1 pots?
You can simply drop them into your recycling bin according to your municipality's recycling instructions.
Also know that our plastic petits pots will be the same shape as our glass ones. This means that the lids sold by Maison Riviera will also work with them!
When will we start seeing PET #1 petits pots in your collection?
In late August, our vegan and goat milk yogurt products will be changed over to 100% recyclable plastic petits pots.
The other products will gradually transition over the coming year. Information on our website will be updated in due course.
If you have any questions about our products or packaging, we would be delighted to answer them at [email protected].